Headphones
The innovation of your senses beyond the normal

The 3D Surround-Sound Headphones in combination with the HoloSync3D-music provide a completely new experience beyond your senses. It is not simply hearing music, it is an immersion into another dimension of reality within yourself, quasi your "Consciousness Universe". The sound of the CDs is transmitted by the 3D Headphones from a hi-fi unit in such a way as if you were in a landscape. You are not just hearing, you are experiencing – from the front, from the back, from the right side and from the left side – from every direction, in every distance, you are in the middle of a sound-collage. By the transmission of the innovative BRAINWAVEHOLOSYNC3D-TECHNOLOGY music, your body gains access to a "spiritual existence" you probably have not experienced so far.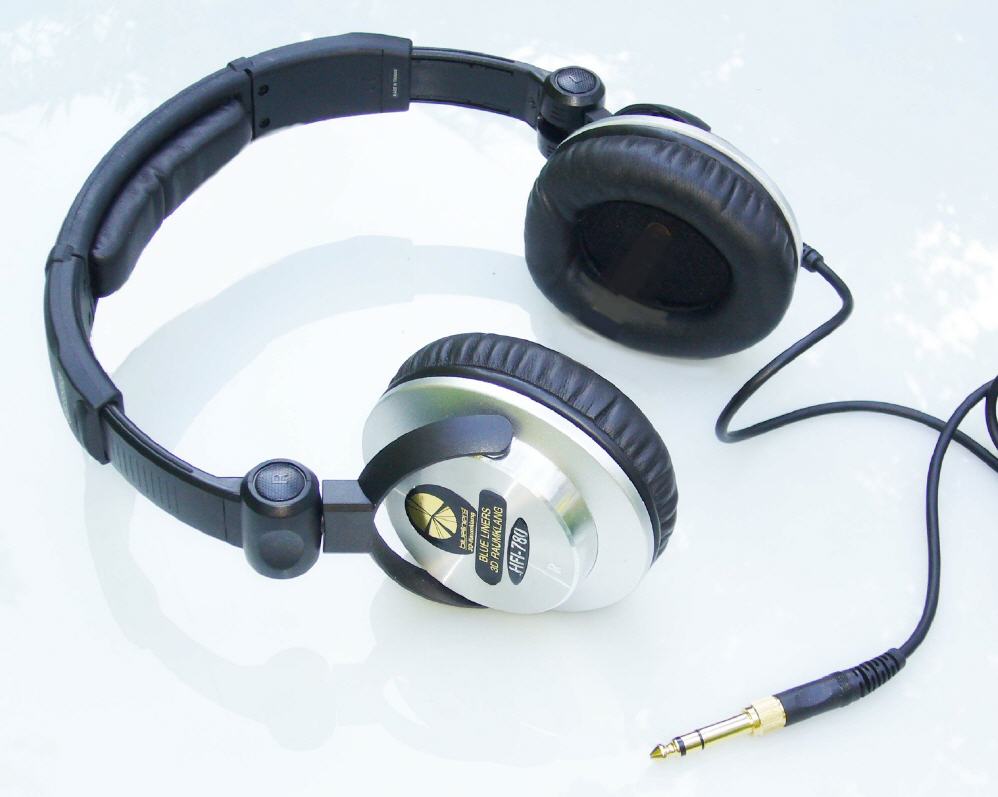 Headphone HFI 780
Technical specifications

Technique: Dynamic
Transfer Principle: Closed
Sound transducer: & oslash; 40 mm
Sound transducer Material: gold coated
Transmission range: 10 - 26,000 Hz
Sound pressure level: 96 dB
Impedance: 35 ohms
MU-metal shielding: ULE technology (Ultra Low Emission)
Natural Surround Sound: S-Logic PLUS
Connection cable: straight cable 1 m, 3.5 mm jack plug gold-plated, 4m extension cable, 3.5 / 6.3 mm pluggable adapter gold-plated
Weight (without cable): 285 g
Scope of delivery: HFI 780, transport bag Price 149.-€
HOLOTROPIC 3D SYNCHRONISATION Surround-Sound Headphones

The patented 3D Surround-Sound SLogic System makes threedimensional hearing possible without additional technical equipment. It produces a natural and spatial sound impression, directions and distances are perceived as clear and real. Ear protecting.

This special conception is ear protecting. At an acoustic pressure reduced of at least 40% (3-4 dB), the hearer perceives the same volume, so that the risk of hearing damage is diminished. The sound alone doesn't make the music.

Medical studies show the high health risks of magnetic low-frequency radiation, e.g. lack of concentration, metabolism disorder, or elevated cancer risk. Comparison measurement of 60 headphone models have shown an average radiation of 1.034 nT (nanoTesla). According to this, standard headphones radiate up to eight times more than, for instance, computer screens are allowed to. All the 3D Surround-Sound Headphones are low-radiation models and thus conform to the requirements of these guidelines. The LE-design lies at least 50% under the values of magnetical emission of standard headphones. The testing certificates of IGEF (International Association for Electromagnetical Pollution Research) and TÜV (Technical Supervisory Association) can prove this.

You are in possession of the world's most sophisticated audio reception device: your ears!

Use these high-quality surround-sound headphones not only for listening to the HOLOSYNC 3D music developed by the Blue Liners Institute – listening to normal CDs will make you feel like sitting in the middle of the orchestra.
Headphone Pro 7801
Properties of the PRO 780i:

Closed capsule design for best working conditions
Optimal room layout with S-Logic® Plus
Excellent sound isolation and channel separation
exchangeable earpads
High wearing comfort for long work sessions
Principle: dynamic / closed
Driver: 40mm, Mylar
Magnet: NdFeB
Frequency range: 10 - 26,000 Hz
SPL: 96 dB
Weight: 295g


Delivery:

Leatherette carrying case
2.5m cable with gold-plated 3.5mm jack plug
Adapter plug from 3.5 mm jack to 6.3 mm jack
one pair of artificial leather and velor earpads each Price: 179.-€